Situated in the prime location of Gujarat, India, we, Spunweb Nonwoven Pvt. Ltd. were established a year back 2015. We are reckoned since last one year as an eminent Manufacturer, Supplier and Exporter. The wide variety of fabrics or textile products that we deal in consists of Non Woven Fabric, Hydrophilic Non Woven Fabric, Non Woven Printed Fabric, Agriculture Non Woven Fabric, Rice Bag Fabric, Shopping Bag Fabric, D-cut and W-Cut Non Woven Fabric and many more. Our fabrics quality is of international quality standards as both in their manufacturing and quality controlling process we conform with the industrial laid norms.
Our Vision
The core vision of our firm is for catering our range of high quality products to several Medical as well as Hygiene customers. Besides, by doing so our firm has reached the production capacity of 7500 metric tonnes in a very short span of time of 2 year from 4800 metric tonnes initially.
Spunweb is also thinking for enlarging its production capacity through introducing one more production line within 2 years.
Some More Details:
Nature of Business

Manufacturer, Supplier and Exporter

Year of Establishment

2015

No. of Production Units

02

Production Type

Automatic

Monthly Production Capacity

750 Ton

No. of Employees

90

Warehousing Facility

Yes

Original Equipment Manufacturer

No

Bankers

SBI Bank

Income Tax Registration No.

AAWCS0641L

Central Sales Tax No.

24592202105

Service Tax Registration No.

AAWCS0641LSD001

Export Market

United States

Product Range

Non Woven Fabric
Plain Non Woven Fabric
Printed Non Woven Fabric
Non Woven Roofing Fabric
Non Woven D Cut Bag
Non Woven Fabric For Shoe Making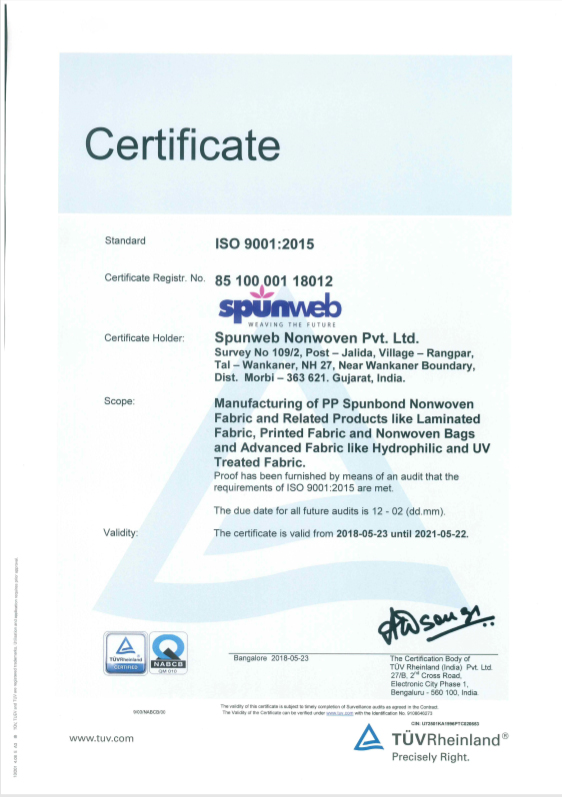 Get in touch with us